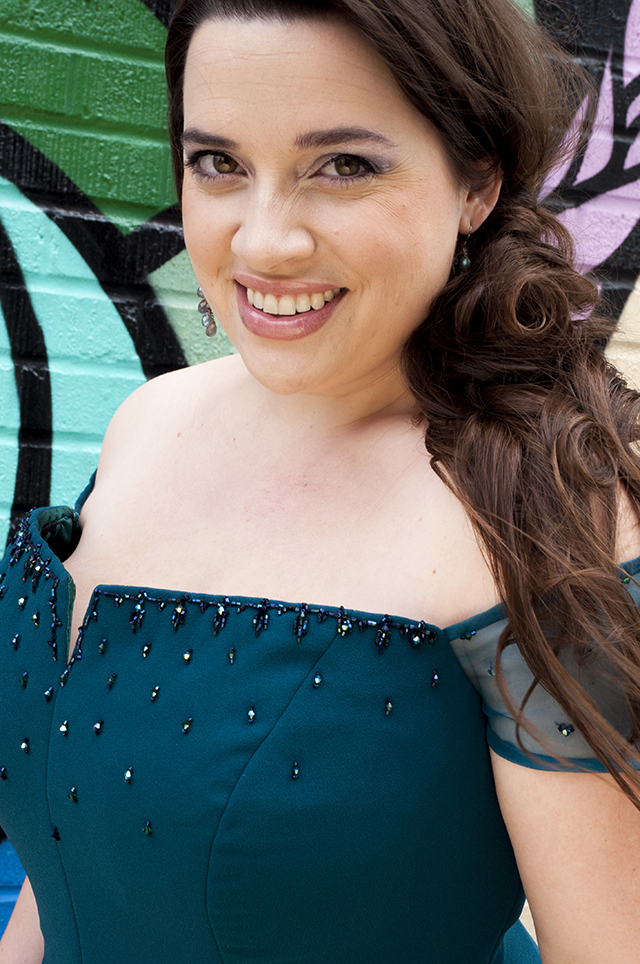 ---
Soprano JULIA FOX excels in chamber, opera, and new music realms, and has been hailed for her "vibrant" tone (Gramophone) and bringing "not only a great sound but high expectations for performance" (Marketing for Orchestras).
In the 2014-2015 season Ms. Fox will appear as Cinderella in Cinderella in Spain by Mary Carol Warwick and Kate Pogue, and create the role of Angelina in the world premier of The Pastry Prince by Mark Buller and Charles Anthony Silvestri with Houston Grand Opera's Opera to Go! She will also be a guest artist on the concert series of Greenbriar Consortium, Houston Community College, Music at St. Philip, Texas A&M University, 47 Strings, Midland Opera Theater, and Concordia University, and will sing world and regional premiers of works by Stephen Bachicha, Libby Larsen, Paul English, and Martin Regan.
This summer she was a Stern Fellow with SongFest in Los Angeles and joined Opera Theater of Pittsburgh's Young Artist roster, where she played Betty in the world premier of Roger Zahab's Happy Hour, performed Dodo in Merry Widow, and covered Naiad in Ariadne auf Naxos.
An alumnus of Houston's High School for the Performing and Visual Arts, Ms. Fox earned her music degree at Amherst College where she apprenticed with the Brentano String Quartet and Peabody Trio, and made her operatic debut as Cunegonde in Candide. Subsequently, she debuted as Belinda in Dido and Aeneus with Empire Opera and as Ariel in The Tempest (Hoiby) with the enCANTA collective, both in New York, and went on to appear as Micaëla in Carmen and Gretel in Hänsel und Gretel. She then created the heroine role in Pulitzer Prize-winning composer Lewis Spratlan's multimedia opera Architect, which was released through Navona Records and screened at festivals in New York, Dallas, Chicago, and Milan.
A chorister with Houston Grand Opera, soloist at St. Philip Presbyterian Church, and recent Young Artist Fellow with Da Camera of Houston, Ms. Fox has also been presented internationally with the Banff Centre and A Prairie Home Companion, and locally with Foundation for Modern Music, Grace Song Inc., Museum of Fine Arts, Menil Collection, Rothko Chapel, Russian Cultural Center, Music Among Friends, Imperial Arts, Young Audiences of Houston, University of Houston, Rice University, and Opera Leggera in recent seasons.
SCHOENBERG Herzgewächse, opus 20
Arnold Schoenberg – Herzgewächse, opus 20 – Julia Fox, soprano; Lara Dodds-Eden, piano – Rolston Recital Hall, Banff Centre – January 2014
SPRATLAN Dream aria
Woman's Dream aria from Lewis SPRATLAN's multimedia opera ARCHITECT, Navona Records 2013
GOLIJOV Lua Descolorida
Osvaldo Golijov's Lua Descolorida for soprano and string quartet – Live performance – Wortham Center – May 2013
CAGE 43
John Cage's #43 from Songbook – Live performance – May 2013
DENISOV Platchi
Edison Denisov – Movement 2 from Platchi for soprano, percussion, piano – Live performance – Russian Cultural Center – April 2013
CRUMB Madrigal III
George Crumb – Madrigal Book III: Nana del caballo grande que no quiso del agua  – Live Performance Rothko Chapel March 2013 – Julia Fox, soprano; Emily Klein, harp; Craig Hauschildt, percussion.